Vendome Property: Luxury Villas For Sale In France
Vendome property: Luxury Villas for sale in France
Find A Luxury Villas For Sale In France And Invest In One Of The Most Famous And Fascinating Countries In The World, It Fascinates Foreigners, Who Consider Paris The Capital Of Elegance And Romanticism
France's Appeal Is Due To The Large Number And Variety Of Points Of Interest, The Diversity Of Landscapes, And The Richness Of Its Wine And Food.
In Addition To The Historical, Cultural, And Artistic Heritage, The Temperate Climate, And The Ease Of Access And Transportation Infrastructure,
Not Only That But Also To The Country's Extensive And Varied Facilities (Hotels, Restaurants, Theme Parks, Etc).
A Survey Published In July 2019 Shows That International Visitors Come Mainly From The UK (14.6%), Germany (13.7%), Belgium, And Luxembourg (13%). Next In Line, Around 7.5%, Are Italy, Switzerland And Then Spain.
As France's Heritage Is So Rich And Varied, We Can Assure You That A Single Trip To Our Country Will Not Be Enough To Admire The Full Extent Of The Beauty Of The French Landscape.
Most Tourists Are Fascinated By The Magic Of This Country, Which Explains Why The Majority Of Them Express Their Wants And Desires Of Acquiring Some French Properties.
It Is Not Surprising, Then, That Many People Make This Lovely Part Of Europe Their Living Dream Country.
And They Plan To Enjoy The Beauty Of Life By Living In One Of France's Luxurious Villas.
In This Blog, We Are Going To Present To You What A Luxury Villa In France Can Bring To You And What Services Are Available In This Type Of France Property.
What Can A Luxury Villa In France Bring?
French Luxury Villas, Splendid Residences Which Make Dreams Small And Large, A Haven Of Unequaled Peace.
The Villa Of Luxury In France Will Be Able To Answer Your Needs In Any Circumstance.
The Luxury City Of France Aims To Pamper You In An Idyllic Setting With The Peace And Quiet You Deserve.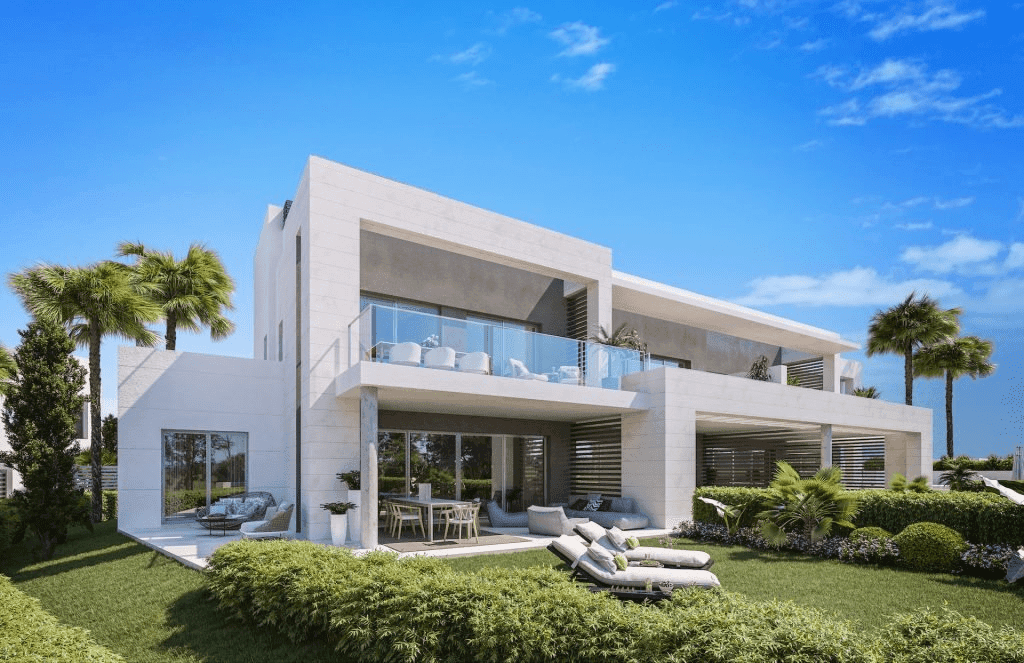 Choosing A Villa Is To Ensure A Particular Comfort By Living Together In Luxury And Privacy, Equipped With Everything You Need To Live Your Best Life With Family Or Spend Vacations With Your Friends.
If You Don't Know What A Villa In France Can Offer You, Or Hesitating If You Should Move Forward With The Idea Of Buying It…
In The Following Lines, We Will Demonstrate The Benefits Of Living In Luxury Villas, Beginning With:
Privacy
All Villas Have Great Privacy And Quiet With Their Neighbors.
Since They Are Usually Placed In Residential Areas With High Security, Usually 24 Hours And Infrastructure That Limits Access To Anyone.
The Privacy Of This Type Of Modern Property Is What Draws People To It; It Is A Synonym For Peace!
Large Terraces / Outdoor Spaces
Villas Have An Extension Of Land Where You Can Enjoy A Private Outdoor Space.
Besides Being Able To Enjoy The Beautiful Weather Of France Both In Summer And Winter.
Breathing In The Fresh Air, Sitting On A Terrace With Your Family And Friends To Enjoy A Hearty Meal, Or Lying Down To Read A Book Under The Bright Sun Is Priceless.
A Luxury Villa Should Have Such As Gardens And Terraces, From Which To Watch The Sunset, Or To Enjoy A Drink Under A Blanket Of Stars.
Luxurious Decoration For Your Interiors And Exteriors
Well-Known For Their Brightness,
Villas Usually Have Very Bright Properties, Due To Their Amplitude And Distance From Other Properties
With Appealing Architecture And Decoration That Give The Villas A Special Touch That Assures You To Be In A Comfortable Space That Boosts Your Well-Being And Guarantees Your Joy.
Luxury Villas For Sale In France – Appealing Sea Views
Luxury Villas With Sea Views Are In High Demand In France.
Many Buyers Are Looking To Purchase Luxury Villas With Stunning Views That Make Their Homes Unique And Special.
Therefore, Having A Sea View Is A Privilege That Is Not Available To Everyone,
And At The Same Time, A Desire That Many Owners Would Like To Have In Their Homes, Especially If We Are Talking About Luxury Homes
You Can Enjoy Beautiful And Bright Mornings With The Reflection Of The Sun In The Sea Or With A Sea In Continuous Movement Throughout The Day.
Luxury Villas For Sale In France With Swimming Pool
We Can't Talk About A Luxury Villa If There Is No Swimming Pool In It.
The Pool Is One Of The Star Features And, Of Course, It Must Be Private.
As We Already Mentioned Earlier, Privacy Is One Of The Most Valuable Assets.
Taking A Private Dip And Enjoying The Surroundings Is One Of Life's Small Pleasures That No One Would Pass Up.
What Services Are Available In A Luxury Villa In France?
Imagine Yourself In Your Hotel, Enjoying The Spa, Or The Gym During The Arranged Hours, With All The Other Residents.
In A Luxury Villa, You Have All The Same Advantages, And Much More, But Everything Is Privatized Just For You. You Are A Bit Like Kings Of The World In Your Villa, In Fact.
Think Of A Luxury Villa As Your Complete Personal Space That Only You And Your Loved Ones Can Enjoy.
Whether You Enjoy Sports Or Prefer To Relax, A Luxury Villa In France Will Allow You To Do Both.
A Luxury Villa Usually Has A Swimming Pool, Tennis Court, And A Fully Equipped Gym.
Many Villas Have Their Own Characteristics That Can Change Your Decision When Choosing A Villa.
But Everything Is Also Provided For You To Feel Good In All Circumstances By Sharing Moments With Family Or Friends.
In Addition To All This, You Will Have At Your Disposal Many Service Providers Who Will Make Your Life Easier.
Where To Find The Villa Of Your Dreams?
Browse The Best Villa Deals In France From The Comfort Of Your Own Home, Wherever You Are…
There Are Many Websites That Give You All The Information You Need To Know About The Property With Its Pictures And Videos So You Can Make Your "Virtual Tour" To The Property In Question.
At Vendome Property, You Choose The Location You Want, And The Budget Of The Property You Can Afford And We Give You A Wild Selection Of Villas And Other Luxurious Properties.
Vendome Property Aims To Make Your Dream And Pamper You As Much As They Can To Ensure The Greatest Possible Comfort And The Greatest Privacy With Dozens Of Activities At Your Disposal.
We Offer You All That You Need!
Vendome International Property Will Help You Find Luxury Villas For Sale In France:
Vendome Property Is A Specialized International Group In Consulting When It Comes To Real Estate Investments.
We Have A Competent Team Of Advisors Who Will Make Sure That Your Luxury Home Has Everything You Want After Learning About Your Needs And Preferences.
Offering A Personalized Service Is One Of Our Most Rooted Principles And What, Finally, Differentiates Us From The Rest.
We Strive Every Day To Make Your Stay Unforgettable And Always Take Care Of The Smallest Details.
On Our Website, You Can Find A Variety Of Villas For Sale In France…
Places you like and you can find the perfect villa to suit all your needs and preferences.
We Have Progressed Through Our Group's Long History By Working With People From All Over The World…
We Are At Your Service, Contact Us To Take Care Of Everything.Those Articles Will Be Helpful before finding Luxury Villas for sale in France: Buy A House In France – Amazing FactsBuying A House In France – The Best Ideal ProcessBuying A French Chateau – Various Advantages And Amazing Facts Are You Thinking To Buy A Property In France Let's Get In Touch, We Have Many Options For You!